Water jet cutting of tapas rolls
GEGE machinebouw develops machines for cutting tapas rolls with the water jet cutter. The water jet cutter is the ultimate way to cut tapas rolls correctly with the best results.
Cutting tapas rolls comes with challenges. The rolls are soft on the inside, sticky on the outside, and tendons of meat can get in the way. The solution: cutting with the water jet slicer. All kinds of tapas rolls with cream cheese can be cut with the water jet cutter: ham, salmon, bacon rolls and more.
The water jet cutter provides:
✅ a long shelf life
✅ tightly cut rolls
✅ rolls free of cheese residue
✅ rolls can be cut fresh (do not need to be frozen)
Click here to see how waterjet cutting of tapas rolls works.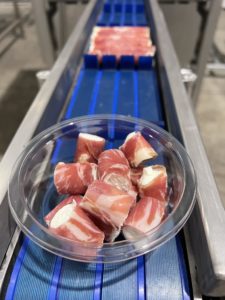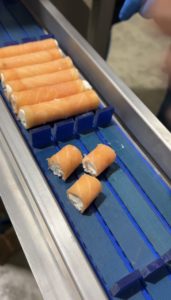 Wondering if we can also cut your product with the water jet? E-mail us: info@gegebv.nl